Since the term was first introduced in 1991, evidence-based medicine (EBM) has shaped the face of medical research as we know it. EBM is the marriage of three key elements: the best available evidence on the benefits and risks of various patient management strategies, a health care professional's clinical expertise, and the patient's experiences, preferences, and values. EBM should serve as an indispensable tool in every health care professional and trainee's clinical decision making toolkit. Evidence-based orthopedics (EBO) is one of the burgeoning fields that evolved out of EBM and is the focus of the recently published Evidence-Based Orthopedics. This book serves as a definitive guide to evidence-based orthopaedic practice today and equips orthopaedic surgeon and trainees with the knowledge needed to effectively practice EBO in their everyday practice. It outlines the necessary steps in addressing the specific key problems in orthopaedics; through searching and critically evaluating the literature, highlighting the landmark studies examining the problem, and learning how to implement this evidence into patients' care. Each chapter starts with a case scenario depicting a common problem within the realm of orthopaedics and concludes with a concise summary of the current recommendations for management of the particular patient. Evidence-Based Orthopedics is the first and only comprehensive EBO text in publication.Undoubtedly, providing optimal patient care is a clinician's primary objective and is contingent on keeping pace with the ever-changing clinical body of research. Evidence-Based Orthopedics is an essential resource that enables orthopaedic surgeons and trainees to locate, appraise, and apply the very latest evidence, ultimately achieving this goal.

Mohit Bhandari
Editor, Evidence-Based Orthopedics

NOW AVAILABLE! 
Haimovici's Vascular Surgery, 6th Edition
by Enrico Ascher
ISBN: 9781444330717
To improve the diagnosis and management of patients with vascular disease turn to the most authoritative and trusted reference for 36 years and counting…

ALSO AVAILABLE! 
Manual of Perioperative Care: An Essential Guide
by Kate Woodhead and Lesley Fudge
ISBN: 9780470659182Manual of Perioperative Care is a comprehensive manual of principles of care that meets the needs of those studying perioperative practice, as well as those looking for an up-to-date, comprehensive reference. With a practical, accessible focus aided by full-color illustrations, this book follows the journey that the patient makes through their surgical care.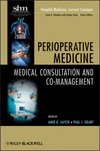 Perioperative Medicine: Medical Consultation and Co-management
by Amir K. Jaffer and Paul Grant
ISBN: 9780470627518Perioperative Medicine: Medical Consultation and Co-Management is the first comprehensive reference text developed specifically for hospitalists but envisioned also to help internists, anesthesiologists, allied health professionals, fellows, residents, and medical students manage various aspects of the medical care of the surgical patient. The book features both the preoperative and postoperative medical management of the surgical patient.

Natural Orifice Translumenal Endoscopic Surgery: Textbook and Video Atlas
by Anthony N. Kalloo, Jacques Marescaux and Ricardo Zorron
ISBN: 9780470671030

Combining high-level text with a superb companion website, Natural Orifice Translumenal Endoscopic Surgery (NOTES): Textbook and Video-Atlas provides you with a hands-on, in-depth and practical multimedia tool on this exciting surgical breakthrough, to consult either on the ward or in surgery.

PREORDER NOW 
Dermatologic Surgery: Step by Step
by Keyvan Nouri
ISBN: 9781444330670
Coming soon! This manual offers detailed, step-by-step guidance to dermatologic surgical procedures. The coverage provides three main sections – General Dermatologic Surgery, Cosmetic Surgery, Lasers and Miscellaneous topics – over 60 chapters with a concise templated format. Each chapter features five sections: pre-operative care, step by step surgical technique, post-operative care and follow up, complications, and prevention and management of complications.Filled with clear descriptions and illustrations (5-10 per procedure), this manual and accompanying DVD provides physicians with updated and easy-to-read information for quick review and reference.Available December 2012 – pre-order your copy today!